Source: Lakefield War Veterans
MILITARY HISTORY
Private James Albert Ball – 195394 – ACTIVE SERVICE (World War I)
On December 7, 1915, James Albert Ball completed the Attestation Paper for the Canadian Army (Expeditionary Force). He was 18 years, 5 months old, when as a single man he enlisted for the duration of the War. James Albert indicated that he was born in Lakefield, Ontario and that his birth-date was July 13, 1897. He indicated he did not presently belong to an Active Militia, but that he had served two years with the 46th Regiment, B Company in Lakefield, Ontario, one year as a Private and one year as an Acting Sergeant. As far as his Trade or Calling; he lists General Mechanic. James Albert was 5′ 10¾" tall, with a 39″ chest (expanded). His weight was given as 130 pounds. He had a fair complexion, with grey eyes, and light brown hair. No Medical issues were raised during his Medical Examination, and as such he was deemed fit for service with the Canadian Overseas Expeditionary Force. James Albert's next-of-kin was listed as his mother, Mrs. Harry Ball, of Lakefield; he made a pay assignment of $15:00 monthly to his mother. He signed the Declaration and Oath on December 7, 1915, in Peterborough, Ontario. The Certificate of Magistrate was signed by the Justice on December 8, 1915, in Peterborough. Although, the Attestation Paper is stamped 57th Regt, James Albert Ball was taken-on-strength with the 93rd Battalion (Peterborough), Canadian Expeditionary Force, which was authorized and formed up December 22, 1915. He was assigned the rank of Private (Pte) Ball was Regimental Number 195394.
Pte Ball was now transported to Valcartier, Québec for Basic Infantry Training. Valcartier was constructed as a Military Base in August 1914, as part of the mobilization of the Canadian Expeditionary Force, at the outset of World War I. The Base is located approximately 16 miles north of Québec City. Training which was pretty rudimentary, consisting of marching, rifle, and bayonet drills. The officers were trained in the correct use of a pistol and practiced swordsmanship. The main goal of the Base was to form the men into units and ship them off to England as quickly as possible, when their training had been completed. On March 14, 1916, Pte Ball was promoted to Corporal and to Sergeant March 31, 1916. Sgt Ball and the 93rd Battalion (Bn) embarked, from Halifax, Nova Scotia, on July 15, 1916, aboard the SS Empress of Britain.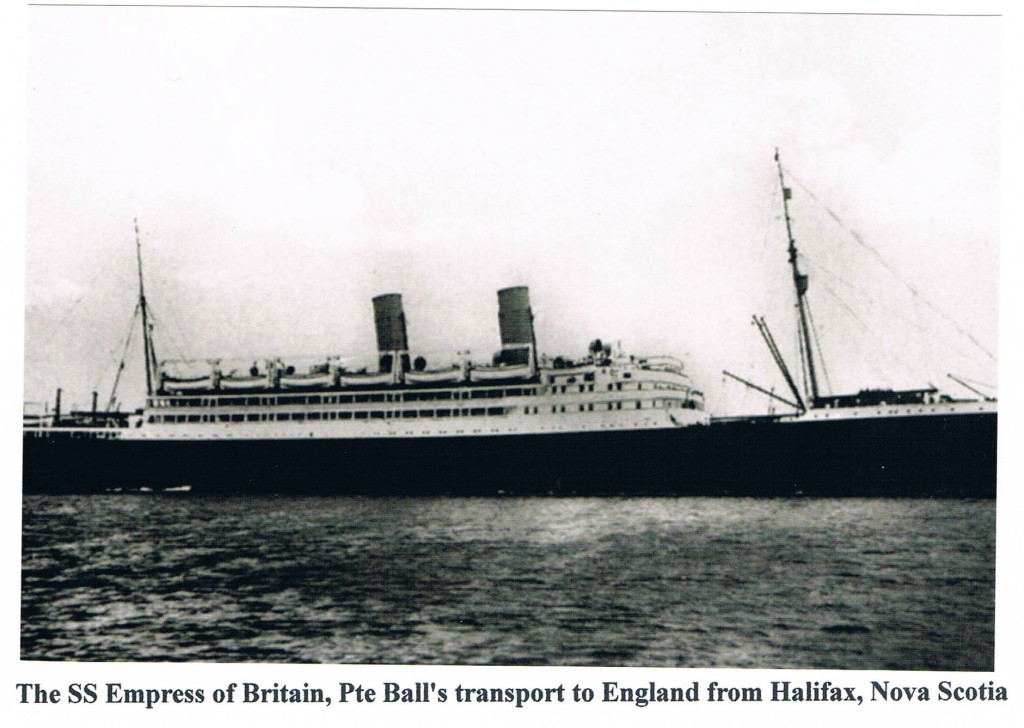 He arrived in Liverpool, England on July 25, 1916. July 31, 1916, Sgt Ball "reverts to the ranks" (demoted to Private), no explanation is given but it was probably due to embarkation. September 4, 1916 shows Pte Ball attached to the 93rd Battalion Signal Base. On September 15, 1916, he was transferred to the 18th Battalion (Bn), a Western Ontario Unit, stationed at Otterpool, England, and was taken-on-strength with the 18th Bn September 16, 1916. October 10, 1916, he joined the 18th Bn in the field (France). The 18th Bn was attached to the 4th Canadian Brigade – 2nd Canadian Division.
Based on Pte Ball's arrival date, in France, of October 10, 1916, there is very good possibility he was involved in the final stages of the battle of the Somme, specifically the Battle of Ancre Heights – from October 1 to November 18, 1916.
At this point offensive operations (by both sides) were stopped by the weather and military operations were mostly restricted to one of survival in the rain, snow, fog, mud fields, waterlogged trenches and shell holes. Spring offensives began with the Battle of Arras (April 9 to May 16, 1917), which included Vimy Ridge,
On July 9, 1917, Pte Ball was wounded in the left thigh, and left arm when an enemy shell burst in his billet. Based on the July 9th 1917 date and the build-up that was taking place for the 3rd Battle of Ypres, which commenced July 31st, he would have been in the area of Passchendaele when he was wounded. July 17, 1917, he was admitted to the No 8 British Red Cross Hospital located at Le Touguet, France. July 29, 1917 he was transferred to No 6 Convalescence Depot located at Étaples, France. August 1, 1917 Pte Ball was transferred to No 5 Convalescent Depot located at Cayeux, France. September 21, 1917 he was discharged from No 5 Convalescent Depot to the Canadian Base Depot located at Étaples, France. September 30, 1917, arrived at the Canadian Corps Reinforcement Camp (CCRC). December 8, 1917 Pte Ball rejoined the 18th Bn and on December 15, 1917, he was granted a 14-day Leave to the UK. He rejoined his Unit, in France, December 29, 1917.
On January 17, 1918, Pte Ball changed his next of kin, from Mrs. Harry Ball of Lakefield to his sister Miss Pearl Ball of Lakefield due to the death of his mother, Sarah Ball.
April 5, 1918, Pte Ball received a "shrapnel wound to his lower lip", and was treated at No 6 Field Ambulance on April 6, 1918. He was admitted to No 5 Convalescence Depot, located at Cayeux, France on April 8, 1918, on the same day he was transported to No 55 General Hospital located at Boulogne, France. April 15, 1918, when it was discovered that he had "a highly contagious skin disorder", he was transported to No 25 General Hospital, located at Hardelat, France. May 10, 1918, he was sent to No 10 Convalescence Depot, located at Ecault, France. May 18, 1918, Pte Ball was discharged to No 5 Rest Camp located at St Martin's, France. On May 21, 1918, he was assigned to Canadian No 1 Base Depot, located Le Havre, France. On July 3, 1918, he arrived at the Canadian Corps Reinforcement Camp (CCRC). August 14, 1918, he was transferred to the 8th Canadian Battalion. On September 8, 1918, he was transferred back to his old unit, the 18th Bn. September 9, 1918, he was dispatched to the 18th Bn. On September 11, 1918, he rejoined the 18th Bn, which was still in France. December 20, 1918, he was granted a 14 day Leave in the UK.
On January 13, 1919, Pte Ball rejoined his Unit from Leave in the Field. On April 4, 1919, he embarked from France, and returned to the UK. April 5, 1919, Pte Ball was struck-off-strength from the 18th Battalion, and was assigned to P Wing, a holding Camp, located at Witley, England, where he would wait repatriation to Canada. On May 1, 1919 the pay assignment to his sister for $15:00 was stopped. May 14, 1919, Pte Ball embarked from Liverpool, England, aboard the RMS Caronia destined for the Port of Halifax, Nova Scotia.
There is no indication as to when Pte Ball disembarked in Halifax, but the normal transit time by ship, from the UK was about 9 days, as such he would have disembarked sometime around May 22, 1919. He would have boarded a Troop train destined for London, Ontario, where on May 24, 1919, he was struck-off-strength, from the Canadian Expeditionary Force at No 1 District Depot, and discharged from Service on the same day.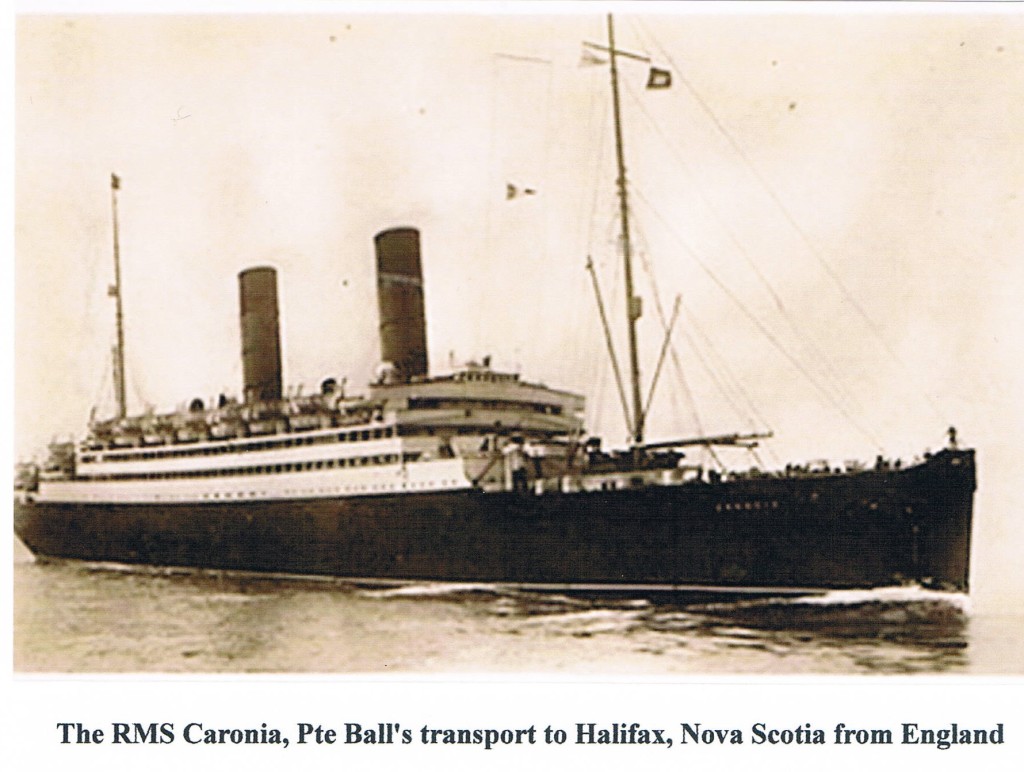 Pte James Albert Ball served with the Canadian Army a total of 1,263 days: 232 days in Canada, 878 days in France, and 153 days in the UK.
There is no reference, in his Military File indicating what Military Medals he was awarded, but based on his Military Service, he would have been awarded the:
Victory Medal; and
British War Medal.
He was also awarded War Service Badge – CEF Class "A".
There is a Note to File, dated May 16, 1922 stating: "kindly forward Medals, to which I am entitled by reason of my Service, to C/O Ball Brothers – 135 Second Avenue, North – Saskatoon, Saskatchewan".
An excerpt from an article in Maclean's by Barbara Ameil, September 1996:
The Military is the single calling in the world with job specifications that include a commitment to die for your nation. What could be more honorable.
PERSONAL HISTORY
JAMES ALBERT BALL
James Albert Ball was born in Smith Township on July 14, 1897 to Henry (Harry) and Sarah Ball.
THE JAMES ALBERT BALL FAMILY OF LAKEFIELD
James Albert's paternal grandparents are James Ball and Johanna Pengalley. His maternal grandparents are Robert Deck and Margaret Wroth. James Ball was born in Devonshire, England; Thomas Deck was from Belmont Township, Peterborough County.
James Albert's parents, Henry (Harry) Ball and Sarah Deck were married in Peterborough on February 2, 1886. Harry and Sarah had 6 children: twins – Charles Russell, born April 1, 1887 and Theodore Stanley, born April 1, 1887; Henry, born February 10, 1889; Vida Pearl, born June 12, 1890 and James Albert, born July 14, 1897. Henry Ball died July 27, 1916 and is interred in Lakefield Cemetery; Sarah Ball (Deck's) death certificate has not been located, however, a stone marker in Lakefield Cemetery has her date-of-death as December 1917.
James Albert Ball was a member of the Lakefield Methodist church and is included on the Memorial Plaque which honours their members who served in the Armed forced during World War 1. The plaque currently hangs in the sanctuary of the Lakefield United Church 47 Regent Street, Lakefield Ontario.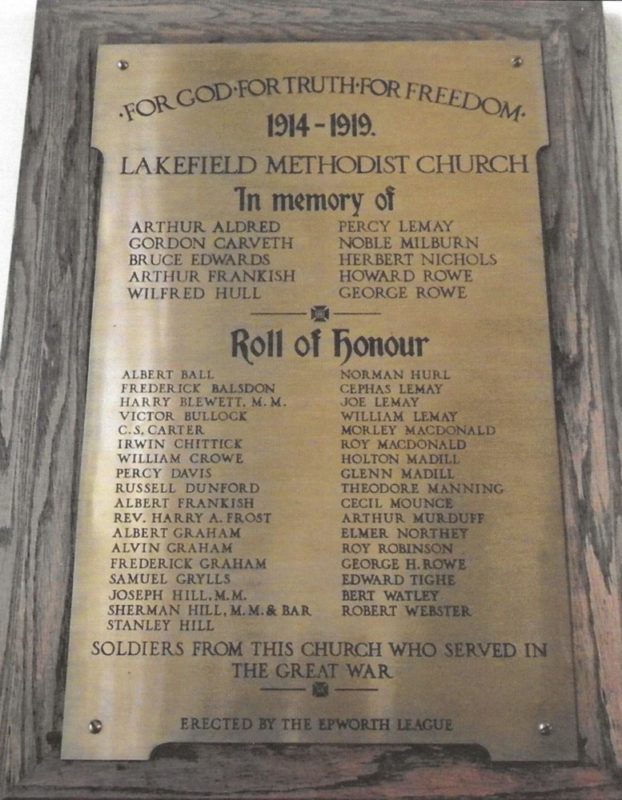 Source: Lakefield War Veterans.